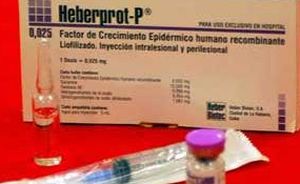 Introduced five years ago Heberprot-p, the Cuban drug to treat diabetic foot ulcers, has proven effectiveness: after its application the rates of amputations in patients suffering from this disease have decreased.
In Sancti Spiritus over 300 patients are being treated with this drug, which is available in the Camilo Cienfuegos Provincial General Hospital and in 18 health areas embedded in the different municipalities of the Cuban central territory.
"Patients receive treatment in primary health care where they are assisted since ulcers present stage 1, according to the Wagner classification. This attention in the early phases of the lesion prevents many of them from having to turn to secondary care and, therefore, avoid amputations, "said the lawyer Yudelka Rivero, promoter of the Ministry of Public Health in the Center for Genetic Engineering and Biotechnology of Sancti Spiritus.
Since 2007, when the drug was first applied in a clinical trial, so far nearly a thousand people in Sancti Spiritus have undergone this treatment, which has allowed a greater wound healing, the reduction of the complications that deep ulcers from diabetic foot carry and a better quality of life for the patients.
In Cuba, more than 12 000 patients benefit from such treatment, which is provided in more than 200 health facilities.
The administration of Heberprot-p requires the qualification of the assisting personnel, which must be composed of doctors, graduates in Nursing, Podiatry and Traumatology.
Heberprot-p is patented in over 40 nations and in 2013 Cuba will initiate a Phase III clinical trial in the European Union countries. In the world more than 70 000 patients from different countries have benefited from using the product.