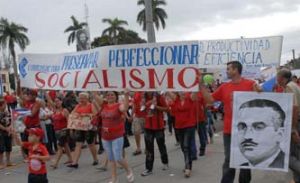 More than three million people marched in the 15 Cuban provinces in the celebrations on Workers International Day, in support of socialism and the updating of the island's socio-economic model.
More than 500,000 citizens attended the May Day march at the Havana's Revolution Square in 23 blocs, led by health workers, according to information quoted by Granma newspaper on Wednesday.
President Raul Castro presided over the patriotic march, in which almost 2,000 representatives from union and solidarity organizations from 117 countries also participated in the parade.
About 400,000 people attended the march in the provinces of Santiago de Cuba and Camaguey, more than 200,000 marchers in Pinar del Rio (west) and Holguin (east), and dozens of thousands of people took the streets in Artemisa, Ciego de Avila, Cienfuegos, Granma, Guantanamo, Las Tunas, Matanzas, Mayabeque, and Sancti Spiritus. (Taken from PL)