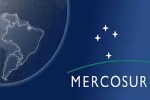 The Council of Foreign Ministers of the Southern Common Market (MERCOSUR) welcomed today the full membership of Venezuela in the bloc, thus strengthening the process of subregional integration.
This is the first meeting attended by Venezuela and we discussed the possibilities to step up this nation's adaptation to the standards and regulations of the group, said Brazilian Foreign Minister Antonio Patriota in a brief meeting with journalists at Itamaraty Palace.
Patriota said this is a slow process, but today the alternatives were assessed in order to step up tasks and also achieve that this nation starts to contribute to the Structural Convergence Fund, which is used to fund development projects of member countries of the bloc.
He announced that with this membership, MERCOSUR becomes the fifth world economy with a market of 275 million people, a Gross Domestic Product of 3.3 trillion USD and ranks sixth among car producers.
Patriota said they discussed the likely membership of Bolivia and Ecuador, confirming that MERCOSUR is in a full expansion process, coinciding with pro-integration aspirations in the region.