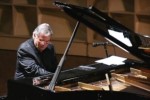 After more than 25 years away from Sancti Spiritus, renowned pianist and composer Jose Maria Vitier García-Marruz, gave a memorable concert this Friday at the local Oscar Fernandez Morera Art Gallery.
The prolific writer of music for films, television and radio programs, and plays, said he hoped his performance would serve to help erase his long absence from the territory.
This is the third concert of Vitier's current national tour, in which he honors the work of famous Cuban musicians like Ernesto Lecuona, Miguel Matamoros, Manuel Corona and Adolfo Guzmán.
In his performance in Sancti Spiritus, he also played  his Danzón imaginario, Caleidoscopio as well as the theme he wrote for the Cuban film Fresa y chocolate.
Scheduled for conclusion next April 14th, the tour of the pianist was started last March 18th in the Concert Hall of the Havana's former Casino Español.