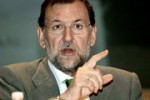 The President of the Spanish Government, Mariano Rajoy, on Thursday will begin an official visit to Colombia, where he will meet with his peer, Juan Manuel Santos, to re-launch trade relations. Rajoy arrived in Bogota on Wednesday night from Mexico.
He and Santos will open together a Colombian-Spanish investment and cooperation forum, with the participation of small and medium companies from both countries.
After that meeting, the Spanish visitor will receive an honorary degree from the Sergio Arboleda University in Bogota, will meet with Santos at the Government Headquarters, and will give a news conference.
Rajoy arrived in Colombia at a time when Spain is going through an acute crisis.
According to analysts, the statesman will also seek here to gather support for Spain's dispute with Argentina, due to the expropriation of the multinational oil company YPF.