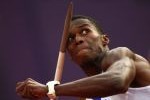 Cuban decathlete Leonel Suarez climbed the podium again in London 2012, in a night where Bolt became the first athlete in history to get to renew his Olympic titles in 100 and 200 meters, and the Kenyan David Rudisha led the best 800-meter race in history.
After disappointment of Dayron Robles Wednesday's sudden injury in the 110m hurdles final race, Leonel Suarez lighted up Cuba again last night with his bronze medal in the decathlon. Thus, the Cuban Athletics improved its image in these Olympics.
Very combative, Leonel did what everyone expected, because in this test is very difficult to beat Americans Ashton Eaton and Trey Hardee. It is not easy either to return to the podium, but Cuban people trusted him.
It all started with a discrete 100m (11.27 seconds), but then he raised his personal best in the long jump: 7.52 meters, to later reached the 14.50 meters in the shot put, his best in the current season.
Then Leonel came further than all his rivals in the high jump (2.11 meters) and closed the first day with his best time of the year in the 400 meters: 49.04 seconds. But still he was placed 6th (4265 points) before the second day of competitions..
On Thursday he began discrete again and scored 14.45 seconds in the 110 meter hurdles. Then he raised on the discus throw, with 45.75 meters, his peak in 2012.
In the pole vault he was lower (4.70) than expected, but as he always does, the javalin was perfect. This time he managed 76.94 meters, Olympic record. Finally, he completed the task with 8 523 points, his best result this year.
Eaton won the gold with 8869 points, but after the first six tests he looked set to beat his own world record (9039), achieved in June during the U.S. trials. Hardee with 8 671 won the silver.
Taken from Cubadebate/Translated by Escambray