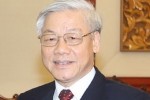 The legacy of the leader of the Cuban Revolution, Fidel Castro, was highlighted at the Bolivian Government Headquarter on Tuesday, during the launch of his book: "Fidel, Guerrillero del Tiempo" (Fidel, Guerrilla of Time), in the presence of President Evo Morales. Speakers stressed Fidel Castro's political stature, his humanism and capacity as a leader of the major political process in Latin America.
Bolivian Vice President Alvaro Garcia Linera highlighted Fidel Castro's qualities as a guerrilla fighter and talked about the meaning of that term and the altruism of a human being when he decides to leave everything back to begin a crusade in favor of the cause of the people.
Garcia Linera recalled that he read other books by the Cuban leader about the armed struggle, but insisted that he would like to enjoy his experience as a guerrilla of State.
On the other hand, Abel Prieto, advisor to Cuban President Raul Castro, noted some words by Evo Morales about the importance Fidel Castro in his political life, stating that "Guerrillero del Tiempo" reveals the historic leader of the Cuban Revolution as a great follower of Jose Marti's ideas.
Prieto only referred to the first of two volumes of the work of writer and journalist Katiuska Blanco. It was the result of an over-six-hour conversation with Fidel Castro in which she mentioned some aspects of the life of the revolutionary leader and some unforgettable excerpts of his childhood and youth until his graduation as a lawyer from the University of Havana.
Cuban Ambassador to Bolivia Rolando Gomez, members of the ministerial cabinet, the Legislative Assembly, social movements and representatives of the Cuban mission also attended the launch of the book. (Taken from PL)