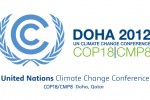 Negotiations at the UN Summit on Climate Change, underway in Qatar, was extended till late hours on Friday following the lack of agreement on the future of the Kyoto Protocol aimed at reducing greenhouse effect gasses that cause global warming.The ministers of the multilateral organization  held a late night session at the request of Conference president Abdulah bin Hamad al Atiyah, while debates are still underway, international media reported.
The forum is trying to reach the extension of the Kyoto Protocol, which expires late this month.
Talks kicked off November 26, and participating nations have thus far agreed to a draft document to work on a UN global accord on climate change for the year 2015.