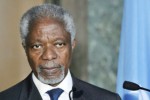 Kofi Annan, special envoy of the United Nations (UN) and the Arab League (AL), on Monday arrived in the country to seek the implementation of effective steps for a peaceful resolution to the crisis of violence affecting the country.
After his arrival, the also former UN secretary general made statements calling on the parties to demonstrate their attachment to the six-point proposal for progress towards a peaceful solution which, according to him, needs a suitable environment for a political process acceptable to all the parties.
Annan will meet with the Syrian authorities and the opposition to discuss the implementation of his six-point proposal, including the cessation of armed violence. His agenda includes to meet with President Bashar al-Assad, who on other issues, would address the bias among several countries to blame his government for the escalation of terrorist violence, as authorities describe the actions of armed gangs.
According to official sources, Annan arrived in this country as an attempt to save his peace plan, which is sabotaged by some of its sponsors, especially those providing logistical and military support to armed groups.
Taken from Prensa Latina