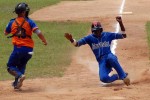 The team from Havana, current champion of Cuban Junior Baseball, defeated runners up Sancti Spiritus 10-0 in the finals of the national championship held in the Cuban central territory.
Havana players got to lead actions through their batting as they shot 16 hits. However, their pitching performed well by allowing only 4 hits to locals, according to the report of the Cuban News Agency.
Rogelio Armenteros was the winner, working in 6 2/3 innings, allowing only 3 hits, striking out 5 and walking 4. Reliever Jose Perera performed in 2 1/3.
The beaten hurler was Yosbel Gonzalez, who was shot 7 hits in 3 2/3 chapters, although Sancti Spiritus used 3 hurlers who could not stop their rivals offensive.