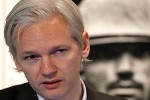 The government of Ecuador has granted political asylum to WikiLeaks founder Julian Assange.  The decision comes two months after Assange took refuge in Ecuador's London embassy to avoid extradition to Sweden to face questioning for alleged sexual misconduct.
Britain has vowed to move ahead with extraditing Assange.  On Wednesday, Britain threatened to raid the embassy if Quito did not hand Assange over.
The threat drew a rebuke from Ecuadorean Foreign Minister Ricardo Patino.  He told reporters: "We've received a threat by the United Kingdom, a clear and written threat that they could storm our embassy in London if Ecuador refuses to hand in Julian Assange.  We want to make it absolutely clear that we are not a British colony and that the times of the colonialism are over."
Britain had previously told Ecuador that giving Assange asylum would not change a thing and that it might still revoke the diplomatic status of Quito's embassy in London to allow the extradition of the WikiLeaks founder.
(Taken from RHC)