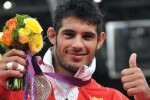 Cuban Asley Gonzalez (90kg) was defeated in the gold medal contest by South Korean Song Dae-Nam, and ended up with the silver medal in the judo tournament of the 2012 London Olympic Games.
The fight was very tough and demanding and had to be decided by the golden score as the two athletes could not get any points in the 5 minutes of the combat.
The Asian managed tu surprise Asley and in just a few seconds got a wazari that gave him the gold medal.
However, the silver medal is an excellent result for the Cuban athlete who adds this to the previous bronze in the Paris World Tourney in 2011. He also contributed with the second medal to his country in the Olympics.
Taken from Cubadebate/Translated by Escambray