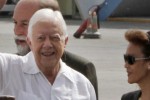 Former U.S. President James Carter said that his country and Cuba could hold a "more sincere" dialogue if the island is removed from Washington's controversial list of state sponsors of terrorism.
Speaking at a meeting of Latin America's Development Bank in Washington, Carter said the role of Havana as guarantor of the peace process between the government of Colombia and the FARC guerrillas eliminates any argument about the need to continue to include the island on the US State Department's terror blacklist.
Carter recalled that "the main reason" given by the administration for keeping Cuba on the blacklist is "because the FARC have offices in Cuba."
"However the last time I was in Havana (April 2011), the ambassadors of Colombia and Spain told me to have them [the FARC offices] there offers an opportunity for dialogue," he said.
Criticizing U.S. policy towards Cuba, Carter said he thinks most Cuban-Americans want open borders and an end to the blockade, adding that he hopes the next president will act forcefully to improve relations with Cuba. (Taken from RHC)