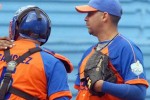 Sancti Spiritus ace Ismel Jimenez got his 4th victory in the season after his team beat Las Tunas 11×4 as visitors.
Roosters came from one run behind and manage to take the lead in the 2nd with a 4 run rally. Decisive in the awakening was Lourdes Y. Gourriel double with two men in scoring positions, which sent Las Tunas starter Darien Nuñez out of the box.
Of the three runs Ismel permitted, only one was earned, as Yordanis Scull hit a triple in the 5th, and then score thanks to wild pitch. The rest were part of Roosters lousy defense which cause one more in the 9th.
Sancti Spiritus greater innings  were the 2nd, 4th and 9th, with 4, 4, and 3 runs scored respectively. They shot 14 hits and dispite being opportune left 13 men on base.
Frederich Cepeda got to lead the RBIs in the tourney with 15 as he went for 4-3, 2R, 2RBI. Also important were Livan Monteagudo (5-2, 1R, 2RBI), Orlando Acebey (4-2, 2R) and Lourdes Gourriel Jr. (4-1, 2RBI, 2R)
Manager Yovani Aragon use 4 picthers, including starter Ismel Jimenez (6 inn, 4 SO, 1 walk, 1 earned run),  rookies Yoanni Hernandez (2 walks and no out) and Carlos Sierra (1 inning, 1 SO, 1 unearned run), and intermediate reliever Javier Vazquez (2 inn, no runs), the latter with great performance in the current season (8,1 inn, 0, 00 ERA)
Las Tunas bet men were catcher Yosvani Alarcon (3-2, 2RBI) and short stop Roberto Baldaquin (1 single, 3 R)
Sancti Spiritus defense continues to be the worst field, as in yesterday game, Roosters made 4 errors, causing 3 of Las Tunas runs to be unearned.
Other team that witnessed victories were Mayabeque 5-Artemisa 4, Villa Clara 8-Camaguey 3, Isla Juventud 6-Pinar del Rio 2, Guantanamo 2-Ciego de Avila 1, Industriales 3-Santiago de Cuba 2, Cienfuegos 5-Holguin 3 and Matanzas 7- Granma 2.