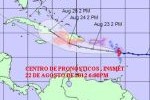 Cuban Civil Defense Authorities issued a tropical storm watch on Thursday for the eastern provinces of Holguin, Granma, Las Tunas and Camaguey given possibilities for cyclone Isaac to affect the island over the next 48 hours.
Tropical storm Joyce follows a northwestern direction after Isaac.
The watch stipulates that administrative bodies in the eastern Cuban provinces must assess the possible impact of heavy rains, the water level of local reservoirs and water courses, and the situation of drainage systems in main cities and the possibilities for impact on thoroughfares, and roads, particularly in mountainous areas.
The plans also include the location of families living in areas that could be flooded, including vacationers in tourist resorts, among other measures.
The Cuban meteorology institute reported that over the past few hours, tropical storm Isaac has maintained 65-kilometer sustained winds with higher gusts. It's moving west-northwest at 26 kilometers per hour.
On Thursday evening the center of the storm was located 290 kilometers southwest of San Juan, Puerto Rico and at 375 kilometers southeast of Santo Domingo, Dominican Republic.
Isaac is expected to gain in organization and intensity over the next 24 hours to keep moving at the same speed an in the same direction. This means that the storm will get to the sea south of Puerto Rico to approach the southern coast of the Dominican Republic.
Meanwhile, tropical storm Joyce is less organized with 65-kilometer sustained winds and higher gusts, as it moves west-northeast at 22 kilometers per hour.
Joyce was located at 2040 kilometers east of the island of Antigua, in the Lesser Antilles and it is expected to keep moving west-northeast and northeast over the next 24 hours, while increasing its speed.  (Taken from RHC)