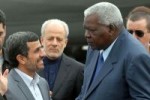 President Mahmoud Ahmadinejad arrived on Tuesday in Cuba, where he will carry out a broad agenda for promoting bilateral relations. Ahmadinejad and his delegation were welcomed at the Jose Marti International Airport in this capital by Vice President Esteban Lazo.
According to his agenda, in addition of meetings with Cuban authorities, the Iranian leader will give a magisterial lecture at the Main Lecture hall of the Havana University, and lay a wreath to Cuban national hero Jose Marti at the Revolution Square.
Ahmadinejad arrives in the island in his third stop of a Latin American tour that took him to Venezuela and Nicaragua, and will also include Ecuador.
In late 2011, a Cuban trade delegation carried out a working visit to that Arab nation, where they reviewed with local representatives economic, business and financial links, as well as some possibilities to expand them.
Havana and Teheran established diplomatic relations in 1975, and they began to boost them in 1979, after the triumph of the Islamic Revolution.
The Latin American tour of Ahmadinejad, who has been in Cuba in 2006 to attend the 14th Summit of the Non Aligned Movement, coincide in time with an escalade of tensions between Iran and the United States, as of a White House effort to isolate Teheran for its nuclear program.
Taken from Prensa Latina