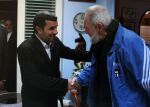 Iranian President Mahmoud Ahmadinejad concluded this Thursday his official visit to Cuba, where he held meetings with Cuban Revolution leader Fidel Castro and President Raul Castro.
Ahmadinejad left for Ecuador to end a Latin American tour which also took him to Venezuela and Nicaragua.The Iranian president told the press that relations between the Caribbean island and the Persian nation are excellent. He was seen off in Havana by his counterpart Raul Castro, with whom he met and talked about the excellent state of bilateral relations and about international topics.
Castro and Ahmadinejad ratified the committment of the two nations towards the defense of peace, public international law and the principles of the United Nations Charter as well as the states' right to the pacific use of nuclear energy.  (Taken from PL and translated by Escambray).