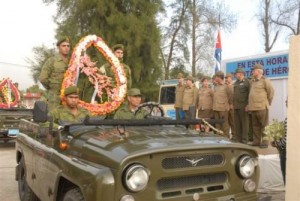 Sancti Spiritus residents marched this Friday to honor local fallen internationalists on occasion of the 23rd anniversary of the so-called Tribute Operation. This tribute was first established when the remains of the over 2 300 Cuban compatriots killed abroad in the fulfillment of internationalist missions, were returned to the island.
The everlasting example of Antonio Maceo and his adjutant Francisco Gómez Toro (Sancti Spiritus), both of whom were killed in battle on December 7th, 1896, was also praised in the ceremony.
The march was led by José Ramón Monteagudo Ruiz, member of the Central Committee of the Cuban Communist Party, and president of the Provincial Defence Council.  Students, members of the Association of Combatants of the Cuban Revolution (ACRC, in Spanish), military officers, and local people were also present.
Floral tributes were sent by the historic leader of the Revolution Fidel Castro Ruz, and by Army General Raul Castro Ruz, president of the Councils of State and Ministers.
[nggallery id=41]