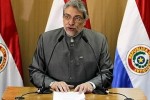 An Inter-American hearing to inquire about denunciations of human rights violations in Paraguay will be held on Thursday, November 1st, with the Federico Franco government as the accused.
Reports on the population suffering abuse, disrespect to the right to life, unjustified layoffs due to political reasons and backing suspension of people's right to health and education, which were guaranteed during the government of ousted President Fernando Lugo, are some of the accusations against the de facto regime.
The hearing will be held in Washington, before the Inter-American Court of Human Rights, which should also rule on the persecution to social leaders, according to the accusations presented by a group of Paraguayan organizations.
The plaintiffs, including the Peace and Justice Service, the Latin American and Caribbean Committee for the Defense of Women's Rights and Paraguayan Coordinator of Human Rights, will demand that the Paraguayan state restore their rights and offer the necessary guarantees to the population.