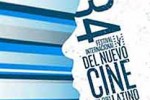 The 34th International Festival of the New Latin American Cinema gets underway Tuesday in Havana till December 14.
Over 500 full and short length fiction films, documentaries and animations will be on display in 14 movie theaters in the Cuban capital. The screenings will be joined by visual arts exhibits, music concerts, book presentations and exchanges among film makers.
The festival will be attended by 1200 foreign visitors including US actress Anette Bening, Argentinean songwriter Fito Paez and movie maker Eliseo Subiela.
Bening will join the president of the US Motion Pictures Arts and Sciences Academy Hawk Koch; director Lisa Chollodenko and producer Mark Johnoson, who will present their work as part of a showcase titled From Hollywood to Havana.
Also expected to attend are Puerto Rican Jacobo Morales, Mexican actor Damian Alcazar and Chilean Andres Wood and Francisca Gavilan.
The film contest, which includes the categories of films, screenplay, animation, posters and opera prima works, pays homage to French Chris Marker, Italian Michelangelo Antonioni, Scheck Jan Svankmajer and to the one hundredth anniversary of the Puerto Rican cinema.