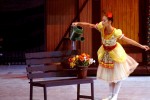 The XXIII International Ballet Festival of Havana kicked off this Sunday in the Avellaneda hall at the National Theater of Cuba, with a parade of all generations of dancers led by prima ballerina Alicia Alonso.
After this traditional ceremony, Alicia Alonso was acclaimed by the audience, when she appeared on stage at the newly revamped theater hall.
Miguel Diaz-Canel, Vice President of the Cuban Council of Ministers, attended the inauguration and praised the event that has charmed people of several generations, he said.
This festival, he said, is thanks to Alicia Alonso, Fernando Alonso and many others who have made possible the existence of a Cuban School of Ballet and a company recognized throughout the world, a troupe that legitimizes us from its birth to the present day.
Every two years the festival becomes a meeting of solidarity, peace and love in a special way and this year marks the 64 anniversary of the birth of this dance group, whose artistic work that has contributed to the development of Cuban and universal culture.
Today, it takes place after a hurricane devastated part of Cuba, but is made with affection and human solidarity and through the ballet comes a message of peace and optimism, with the conviction that a better world is possible, he added.
"Let's have then the miracle of dance and let's all dance to the beat of beauty", he concluded.
The inaugural function included the choreography "En la noche" by Jerome Robbins, with music by Chopin and a live piano performance by Leonardo's Milanes and starring Viengsay Valdes, Sadaise Arencibia, Yanela Piñera, Yaniel Gomez, Victor Estevez and Arian Molina.
The closing ballet was La fille mal gardée, choreography by Alicia Alonso on the original by Jean Dauberval and performances by Anette Delgado and Dani Hernandez.
Cuba´s Minister of Culture Rafael Bernal attended the event, as well as other personalities of art and politics.
The Festival will run through November 7, and it is attended by dancers, choreographers and personalities from Argentina, USA, Canada, Chile, France, Mexico, Norway, Puerto Rico, Great Britain, Netherlands, Romania, Spain, Italy and the host country.