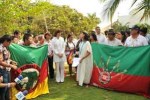 Indigenous peoples of the continent demanded on Wednesday the leaders who will meet at the Sixth Summit of the Americas in Cartagenas concrete solutions to problems that affect their rights and society in general.
In an interview with Prensa Latina, Luis Evelin Andrade, president of the National Indigenous Organization of Colombia (NIOC) stated that native peoples expect real commitments to be taken during the summit.
He also said that indigenous people hope the leaders to discuss the need to incorporate into their decisions the component of cultural diversity, and progress in terms of recognizing indigenous rights as part of a statement.
Andrade described the situation of indigenous communities as paradoxical, because their political rise it is acknowledged and there have been changes on right matters, but remains hunger, poverty, social exclusion and precarious health and education.
So, he added, we expect commitments aimed at solving the problem of poverty, but above all the inclusion of all social sectors in the decisions to be taken. Over 150 representatives of various indigenous peoples of America meet in Cartagena de Indias to defend their rights and promote dialogue scenarios with States. (Taken from PL)