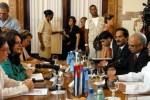 Indian Foreign Minister S. M. Krishna on Friday expressed his country's interest in boosting economic relations with Cuba, so he said that a high-level delegation will travel to Havana soon.
"Our political relations are excellent, but we must give those links a greater economic content," Krishna told Prensa Latina during reception in his honor.
According to the diplomat, Indian companies need to invest in Cuba, and Cuban firms must be present in India, where, he assured, there are great opportunities.
Krishna noted that in order to boost bilateral relations in the economic sector, Indian Commerce and Industry Minister Jyotiraditya Scindia will travel to Havana soon.
No one better than our young and dynamic minister Scindia to open new horizons of cooperation between the two countries, he stressed.
According to the head of Indian diplomacy, he was looking forward to this visit to Cuba, which began on Thursday.
I wanted to come for a long time, it is an emotional and sentimental trip, because since I was a student I have been inspired by the spirit of the Cuban Revolution, he added.
Krishna also referred to his meeting with Cuban Foreign Minister Bruno Rodríguez on Friday morning, and described it as a "productive exchange".
We invited Rodriguez to visit India next month, so I expect to welcome him in New Delhi, he pointed out.
For his part, the Cuban foreign minister said at the reception that Krishna visit is a substantial contribution to the development of bilateral relations.
Our ties are historic and excellent, and we discovered that they also have a potential to continue advancing, he stated.
Taken from PL