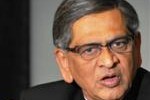 India's Foreign Affairs minister S. M. Krishna is scheduled to pay an official visit to Cuba June 15-17 and meet with his local counterpart Bruno Rodriguez on bilateral issues.
The two foreign ministers will also address significant regional and international issues, PL news agency reported on Tuesday citing acommuniqué issued by India's Foreign Ministry.
Bilateral relations between India and Cuba have been traditionally warm and friendly, reads the communiqué, which also explains that both nations share mutual cooperation relations in the fields of sports, energy, biotechnology and information technologies.
India's government was one of the first to recognize the Cuban government following the 1959 revolutionary victory. Both countries maintain close contacts at international forums, such as the U.N. and the Non-Aligned Movement.
New Delhi has consistently supported Havana in subsequent votes at the United Nations to lift the over-50-year US economic blockade of the island and has opposed Washington's attempts to condemn Havana in entities such as the Human Rights Council.
The two countries have agreed on the need to democratize the United Nations and expand its Security Council as a crucial part of the process of reforms of the international organization. Cuba also backs the inclusion of India as permanent Security Council member.
According to the communiqué issued by India's Foreign Ministry, Krishna will meet with ambassadors from his country in Latin America and the Caribbean as part of an agenda he has been meeting in other regions of the world aimed at raising awareness in India's diplomatic missions about the needs of Indian communities based in other nations of the world.  (Taken from ACN)