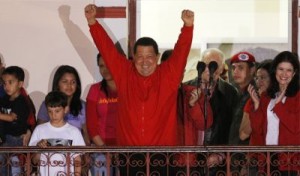 Hugo Chavez Frias was re-elected Venezuelan President with 7 million 444 thousand 82 votes counted thus far, according to the Venezuelan National Electoral Council.
The number of votes in favor of Chavez, represent 54.42 percent of all 13 million 667 thousand 934 valid votes. This means that Chavez won over his rival Henrique Carpriles with a difference of nearly 10 points.
Capriles garnered 44.97 percent (6 million 151 thousand 544 votes) the president of the National Electoral Council, Tibisay Lucena announced in a press conference after the vote counting.
Lucena stressed the massive turn out at the polls, which totaled 80.94 percent, one of the largest participations by the people in an election over the past decades in Venezuela.
Hugo Chavez's next presidential term will begin January 10, 2013.