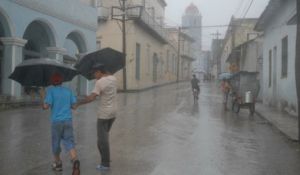 The rainfall recorded in Sancti Spiritus during the previous week, although significant, has not completely solved the drought problem in this central Cuban territory.
According to the information provided by the Provincial Delegation of Water Resources, heavy rains (over 200mm) were reported in Yaguajay, Tres Atejes and Mayajigua. In other 23 locations, precipitations exceeded 100mm, mostly in the northern and central regions.
Local reservoirs were supplied with 23 million cubic meters of water, yet they barely accumulate 28% of their total capacity. Despite the nearly 15 000 000m³ received, the Zaza dam still lacks 120 million as compared to the same period of time last year. Tuinucú, Lebrije and Siguaney reservoirs are in good condition to supply the population.