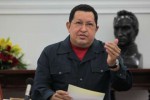 Venezuelan Vice-President Nicolas Maduro informed Saturday that the health condition of President Hugo Chavez strengthens progressively.
"Our comrade Cilia Flores has just arrived (from Cuba) and personally reaffirmed the favorable conditions (of President Chavez). Day to day, our Commander recovers strength and all his conditions."
In the swearing-in ceremony of regional governor in Portuguesa state Wilmar Castro Soteldo, Maduro took the opportunity to urge for unity among political and social revolutionary forces.
The Vice-president added that Chavez must continue a process of stabilization and that meanwhile National Government representatives are working to defend the Venezuelan people.
(Taken from AVN)