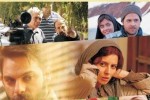 The Havana premier of the 2012 Oscar winning movie Una separación (A separation), which won the coveted prize as best foreign film, opened a one-week Iranian Film Festival, featuring the best of Persian culture.
Eight movies that represent the work by five influential directors in that nation's film industry are being screened until Sunday, April 15.
Standing out among the cultural gathering's sample are another two films by several time awarded filmmaker Asghar Farhadi, who is in Cuba for the event: Fiesta del fuego (Party of Fire) and A propósito de Ely (Regarding Ely), as well as Nadie sabe nada de gatos persas (Nobody knows anything about Persian Cats) –Special Jury Award at Cannes- by Bahman Ghobadi and El globo blanco (The white balloon) by Jafar Panahi.
The list also includes the Palm D'Or awarded film El sabor de las cerezas (The taste of cherries) by Abbas Kiarostami; El color del paraíso (The color of paradise) by Majad Majidi; and Bashú by Bahram Beizai.
Farhadi, who is heading the Iranian delegation to the film festival, is also made up of poet Hassan Makaremi and documentary director Mina Rad. The Iranian group is also having exchanges with Cuban directors, filmmakers and movie staff, as well as students from the famous San Antonio de los Baños Film and Television School and the Higher Institute for the Arts' Audiovisual School.
A Persian painting exhibition, opened at Havana's Charles Chaplin Theater on Monday, and a tribute to classical poet Havez are also included in the event.
Sponsored by the Cuban Film Institute –ICAIC-, the Cubairán Project of the Cuban Writers and Artists Association –UNEAC- and the Iranian embassy in the Cuban capital, the festival will also be held in other movie theaters in the Caribbean island.
(Taken from RHC)