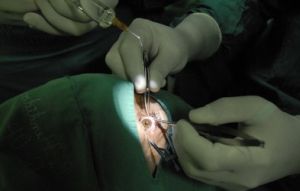 Although experts say that malignant eyelid lesions tend to appear in people with half a century of life, Sancti Spiritus province, in central Cuba, reveals some peculiarity as half of the patients diagnosed with this condition does not exceed the 45 years.
Under this clinical reasoning, a number of investigations have been undertaken by experts from the Provincial Ophthalmological Center, one of a kind in Sancti Spiritus, where they have handled more than a thousand patients with disorders of the eyelids and other areas surrounding the eye.
Of these patients, who attended the Oculoplastics consultation, devoted to the study of such conditions, more than 50 required surgical treatment because of the eyelid malignant lesions they present.
According to experts, this incidence could be due to the continuous exposure to solar radiation while being unprotected, although the background of developing malignant lesions in other body regions is not ruled out.
Given the incidence of this disease in young adults, specialists recommend that, especially in the summer stage, protection from sunlight is of the essence. However, they also routed some research to unravel the causes and treat this health problem promptly. In addition, after surgery, patients undergo regular monitoring because of the possibility of recurrence of these injuries over the years.