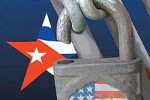 In Haiti, the local Radio Kiskeya radio station opened its microphones to voices demanding the release of the five Cuban antiterrorists held in the United States since 1998.
During a popular radio show, Haitian doctor Douli Jean, who graduated in Cuba in 2005, demanded freedom for Gerardo Hernandez, Fernando Gonzalez, Ramon Labañino, Antonio Guerrero and Rene Gonzalez, internationally known as the Cuban Five.
The young medical doctor called on the Haitian youths, particularly those currently taking medicine courses, to join efforts for the release of the five Cuban heroes; he said supporting Cuba against terrorism is supporting all the countries of the world.
The Cuba Five were arrested in 1998 and submitted to a biased Miami trial that gave them extremely long and unfair sentences after they monitored US-based terrorist organizations.
Friends of Cuba in Haiti also launched a solidarity-with-the Five campaign over the weekend to demand the return home of the Cuban antiterrorist fighters.
Taken from AIN