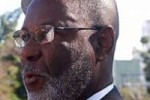 Cuba is on Haiti's side in its struggle for dignity and independence, which deserves our everlasting gratitude, said Haitian Ambassador in Havana Jean Victor Geneus.
In an interview with Prensa Latina at the end of a ceremony on the occasion of the 208th anniversary of Haitian independence, the diplomat described Cuba's support as an incentive and an example for the international community.
"We thank the Cuban people and government for their gesture of solidarity, which we consider an inspiration to the oppressed worldwide," he said.
Cuba has some 700 health collaborators in Haiti, in an effort started in 1998.
Cuba also gives Haiti assistance in the field of education. At least 400 Haitian youngsters are studying medicine in Cuba.
We have had links for two centuries, and they are strengthened every year, said Geneus, who highlighted the role played by Haiti in Cuba's struglle for independence.
"Heroes Jose Marti and Antonio Maceo were welcomed in our land, where the Cubans' struggle for their liberty has always been backed," he noted.
Haitian President Michel Martelly visited Cuba in November 2011, on a busy agenda, including talks with President Raul Castro.  (Taken from PL).