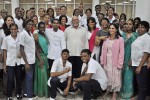 Guyana's president Donald Rabindranauth Ramotar reiterated his support of the island's struggle for the lifting of the US siege, which has inflicted damage calculated at over one trillion dollars.
Guyana was one of the first nations to have rejected the US blockade of Cuba since it was imposed, said the Guyanese head of state and he recalled that in his latest speech at the United Nations he again called for the lifting of the US unilateral anti-Cuba measure.
During a meeting with Guyanese students taking medical courses at Havana's Latin American School of Medicine (ELAM), Rabindranauth stressed the opportunity offered by Cuba to those youths so that they become doctors and be able to assist the humblest communities in their country.
At present, some 13 thousand youths from 122 countries are studying at the medicine school, while more than 15 thousand others from 67 nations have graduated as medical doctors in just 13 years, since the school was founded.
As part of his official agenda in Cuba, the Guyanese president will meet with top Cuban government officials and lay a wreath to National Hero Jose Marti.