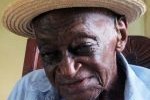 A guayabera shirt from Cuban late musician Faustino Oramas, best known as El Guayabero, was recently added to the Sancti Spiritus's such shirts collection.
The blue short sleeve shirt formerly owned by the King of the double entendre, as this Holguin-born artist was also called, was handed over by the members of Los Guayaberos band, founded in 1980 by the Guayabero himself and which is currently touring the island.
Helena Farfan, one of the promoters of the socio-cultural project which was named after the garment, told AIN that 139 have been so far donated, all of which are kept in the local Provincial general Museum.
Faustino Oramas became one of the most popular singers and song-writers in Cuba since his lyrics were a mixture of humour and daily life stories. "A mí me gusta que baile Marieta", "Tumbaíto" and "¡Ay, candela!", are some of the most popular.