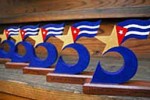 Academics from several countries joined today US colleagues to demand the release of the Five Cuban anti-terrorists jailed in their country and the end of the blockade on Cuba at the 30th Congress of the Association of Latin American Studies (LASA).
Gloria La Riva, president of the Free the Cuban Five National Committee, convened this solidarity meeting with the Cubans who were imposed arbitrary sentences for monitoring terrorist groups to prevent criminal actions against Cuba and the US itself.
While Cuban experts Camila Piñera and Juan Luis Martin explained some aspects of Cuba's reality, including the economic model realignment, Miguel Barnet highlight the importance of non stop campaigns in favor of Gerardo Hernandez, Ramon Labañino, Antonio Guerrero, Fernando Gonzalez and Rene Gonzalez -the later now on a forced 3-year probation in the US.
Barnet who is the president of National Union of Writers and Arstist in Cuba is among the 75 Cuban intellectuals who were given visas to attend this activty in LASA, but another ten were not that lucky and were rejected. (Taken from PL)