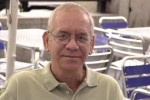 Cuban filmmaker Gerardo Chijona was happy and surprised after his nomination for the Goya Awards 2012 with his film "Boleto al Paraiso" (Ticket to Paradise), an honor he dedicated to his working team.
The film was nominated in the category of Best Spanish-speaking foreign film along with the Mexican film Miss Bala, by Gerardo Naranjo, the Argentine film "A Chinese Story" by Sebastian Borensztein, and the Chilean film "Violeta se fue a los Cielos" (Violeta Went to Heaven) by Andres Wood.
Chijona knows that the chances of winning will be tough because of the quality of the other contenders. "I know some of them, and I admire others, but I'm happy", he said.
To date, the film has won the Biznaga de Plata (Silver Bishop's Weed) award; Casa America Prize in the Film Festival in Malaga, Spain; the festival's audience award at Biarritz; and the Havana Star for best film in the Havana Film Festival New York, USA.
While waiting for the ceremony of the Goya awards, on February 19, Chijona began to work on his next film, "Esther en Alguna Parte" (Esther Somewhere), adapted from a novel by Eliseo Alberto Diego, the shooting of which will start next month. (Taken from PL).