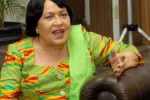 Joyce Adelina Banford, president of the National Assembly of the Republic of Ghana, expressed on Monday her appreciation for the help her country has received from Cuba in various fields.
While meeting with Ricardo Alarcon, president of the National Assembly of the People's Power, the parliamentarian highlighted Cuba's contribution in the training of medical staff and other health specialists.
She said that Cuban physicians work at Ghanaian hospitals and have achieved prestige among the population for their professionalism and commitment.
Cuba has been acknowledged for the cooperation it gives to countries in need, asserted the parliamentarian, who recalled that her country was the first in the African continent to establish diplomatic relations with Cuba after the triumph of the Revolution, in 1959.
During the meeting, she gave her Cuban counterpart, as a present, a Kempte, a typical Ghanaian costume, made by artisans in her country.
Adelina Bonford has been heading the Ghanaian parliament since 2009, and she's the first woman to occupy this post, which is third in hierarchy in that African state.
Prior to this post, she also held other very responsible positions at the Supreme Court, and was her country's Attorney General between 1963 and 1973.
In 1991 she was appointed president of the Supreme Court, a post she occupied until 2004.  (Taken from ACN)