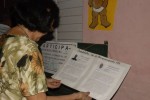 On occasion of this Sunday elections, two residents of Fomento compare electoral processes.
It may be that people don't know why Coco Solo, that suburban neighbourhood born in the outskirts of Fomento, Sancti Spiritus, was named as such. I arrived there sometime at the beginning of the 90s, when I was starting by job as a journalist.
On that occasion, my work was sort of parallelism in the life of that locality which had reborn with the new programs, specially house construction, encouraged by top political and governmental authorities.
Despite the actions aimed at the improvement of the area, Coco Solo has not renounce to its neighbourhood condition, to its noble and charismatic people, like Eustaquio Concepción and Flora Gómez.
With a photographic memory, Eustaquio remembers that in times of elections, before the triumph of the Cuban Revolution in 1959, Fomento was practically besieged by Fulgencio Batista's army, which was later on overthrown by Commander in Chief Fidel Castro's forces.
"Militaries were brought to Santa Clara by train -he recalls- to be later on sent to the different towns. They were divided into groups: some guarded the ballot boxes, and others took people out of their houses to force them to vote".
"It is now the pioneers to look after the ballot boxes, and people voluntarily go to vote. It is us who freely elect the people to represent us", he remarks.
Flora Gómez refers to the unscrupulous behaviour of politicians  during the pseudo republic. "A sister of mine who had given birth to a child had a lung disease and needed to be transferred to Topes de Collantes. The only possibility to get an ambulance was to collect over a hundred identity cards. Since we were not many members in the family, we couldn't do the job, and my sister died".
"There was a candidate named Pedro Antonio, and another one known as Rainwater, both of whom promised to repair the roads, but they did nothing in fact", she added.
This October 21st, nobody went to ask Eustaquio or Flora if they were going to vote, within the framework of the general elections called in Cuba to elect the delegates to the Municipal Assemblies of the People's Power.
It's true that Coco Solo continues to be named as such, but fortunately, these two locals have not lost their memory.