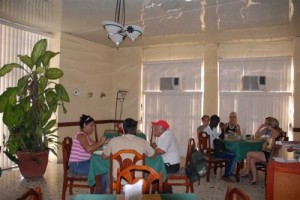 Actions for repairing and changing the image of the trade and gastronomic sectors are gaining force in Sancti Spiritus, central Cuba, where 248 facilities are included in the rehabilitation process, some of which have already been finished.
Such tasks allow the entities to continue working and have a positive effect on the ambience, as well as to better up the service's quality through the incorporation of material conditions for their appropriate functioning.
Humberto Bienes Acosta, investor of the trade sector in Sancti Spiritus, explained to Escambray that in order to assimilate the repairing and restructuring of these facilities, the Cuban central territory has earmarked some 2700 000 CUP (Cuban national currency).
In occasion of Sancti Spiritus's 498th anniversary, next June 4th, intense works are being done to repair the Pensamiento Bar, establishment to reopen with restaurant, canteen and night center functions also, explained Acosta.
The movement involves all territories in Sancti Spiritus, with greater impact on Cabaiguan, where more than 40 facilities will be benefited before December.