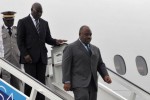 The President of the Gabonese Republic Ali Bongo Ondimba arrived Thursday in Havana for a four-day official visit, on the invitation of the Cuban government.
The Gabonese leader, who was welcomed at the Jose Marti International airport by deputy foreign minister Rogelio Sierra, is scheduled to hold official talks with President Raul Castro.
Cuba and the Gabonese Republic established diplomatic Relations in 1974. Both countries share excellent cooperation relations, particularly in the fields of health, education and sports.
The French-speaking African nation has maintained a firm stance against the illegal US economic, commercial and financial blockade of Cuba.
Over a dozen Gabonese youths have graduated from Cuban universities, while another 26 are currently taking higher education courses on the island.
The Gabonese economy is mainly based on mineral resources like iron, silver, lead and others. The country also has important timber-yielding forests, including mahogany and ebony.
The central African Republic has over 267 square kilometres and more than 1.5 million inhabitants and its capita is Libreville.