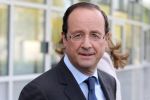 In his first speech as president of France, Francois Hollande has promised a new way forward for Europe and called for France to unite as the basis to regain the people's confidence.
Hollande was sworn in at the Elysee Palace as the seventh president of the 5th Republic and the 24th in France's Republican history.
In his message, Hollande reiterated his plan to promote a new pact in the European Union in which measures can be combined to balance public funds with policies aimed at encouraging economic growth.
The new president said that France is committed to the world and will keep a policy of respect for all the peoples.
He also vowed to contribute to peace and mobilize all forces in the country during his five-year term.
The new president said that he would bring the country much-needed calm and reconciliation, and would fight against divisions and racism.
Hollande said he was aware of the challenge that awaits him and the difficult conditions: weak growth, high unemployment, France that is not competitive and Europe struggling to find economic growth. (Taken from PL)