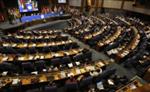 Iranian Foreign Minister Alí Ajbar Salehi issued the opening address to experts and ambassador attending the Non Aligned Movement (NAM) preparatory meeting for the Ministerial Summit on Tuesday and Wednesday.
Foreign Ministry spokesman Ramin Mehmanparast told the accredited media the experts will arrange the agenda for the guest heads of state and or government are to confer on August 30th and 31st with officials of 80 countries.
He said they agreed to include in the Final Declaration to the 16th NAM Summit a condemnation of unilateralism and of every form of occupation, and will have a say on medullar conflicts like Palestine Vs Israel and the crisis in Syria.
Cuba chaired the Political Commission while local sources said Iran is to assume the pro tempore leadership.
Ahmad Sobhani, the Foreign Ministry director general for Asia, told IRNA news agency, assured that the NAM's key purpose is planning and boosting enforcement of a better world for the member countries have never yielded to pressures or coercion.
He reminded of Iran's current differences with the US and its European partners who accuse Tehran of developing a nuclear program for military purposes, something Iran rejects and reaffirms its peaceful purposes and has always enjoyed the NAM's 100 percent support in fending Western hostility and hegemonic policies.  (Taken from PL)