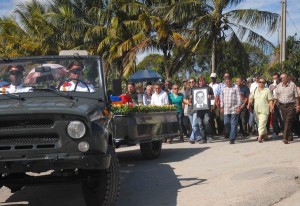 Thousand residents of Yaguajay,  Sancti Spiritus, gave the final farewell this Thrusday to Cuban diplomat Crescencio Nicomedes Galañena Hernández, who was kidnapped in Buenos Aires, Argentina, on August 9th, 1976.  He was later on murdered, and considered missing since then.
The remains of El Negro (The Black One), as his relatives used to call him, were paid tribute to at the local House of Culture, from where they were transferred to the Pantheon of the Fallen for the Defense.
Galañena Hernández was a victime of the Operación Condor (Condor Operation), and was shut away together with his fellow worker Jesus Cejas Arias, who is  still missing, in a clandestine centre of detention, torture and extermination in Buenos Aires. His remains, which had been found last June into a barrel filled with concrete outside Buenos Aires, were recently repatriated.
(…)
On occasion of the homage ceremony in Yaguajay, the President of the Internacional Committee for the Liberation of the Five Graciela Ramírez, read a message sent by the Cuban fighters in which they highlight the martyrology of both Galañena Hernández ans Cejas Arias.
The funeral ceremonial and inhumation of Galañena Hernández's remains were attended by José Ramón Monteagudo Ruiz, member of the Central Committee and first secretary of the Party in Sancti Spiritus, and by Argentinean Ambassador to Cuba Her Excellency Mrs. Juliana Isabel Marino.