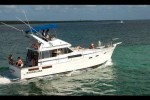 The XXXII International Tourism Fair (FITCUBA 2012) will start this Tuesday in a new venue, Cayo Santa Maria, off the northern coast of Central Cuba.
Cayo Santa Maria is considered the youngest of all Cuban destinations. It will host this event attended by tourism officials, tour operators, specialized press and representatives of airlines, hotel chains and others, according to information realsed by the Cuban Ministry of Tourism (MINTUR)
Through Friday 11, specialists and promoters will exchange their experiences and tackle other issues as family tourism with is showing a great potential in Cuba and the Caribbean region.
Cuban Tourism Minister Manuel Marrero will deliver a keynote speech in the opening day, as well as Daniel Pablo Aguilera, Argentinean secretary of Tourism and Carlos Vogeler, Regional Director for the Americas at UNWTO World Tourism Organization
Argentina is the guest of honor of FITCUBA 2012, and Cuba has become the most promoted tourist destination in that South American country, according to some 1 600 specialists, according to MINTUR.
The keys off the northern coast of central Villa Clara province: Santa María, Las Brujas and Ensenachos are connected to the main island through a road over the sea that extents over 30 miles.
Taken from AIN