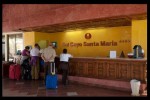 A rise in Argentinean travelers to Cuba is being discussed on Wednesday on the second day of the 32nd International Tourism Fair FITCuba 2012, taking place in Cayo Santa Maria. Precisely, the main Cuban tourism fair chose Argentina as the guest of honor, the family as a product and the keys in Central Cuba as a zone.
Spokespersons for the organizing committee announced an increase in Argentinean tourists. More than 41 Argentineans arrived here in 1998, but that number rose to 54,185 visitors in 2000.
Some years later, the number of Argentinean vacationers dropped, but it increased again to more than 47,000 in 2008 and to 75,969 in 2011.
The fair, which is taking place in one of Cuba's newest tourist destinations, also shows participants similar options in nearby keys, such as Ensenachos and Las Brujas, in the central Cuban province of Villa Clara.
Taken from Prensa Latina