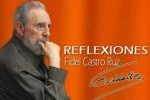 In his most recent reflection, Cuban Revolution leader Fidel Castro Ruz, refers to German Erich Honecker, to whom he "keeps the deepest feelings of solidarity".
Full Text
Erich Honecker was the most revolutionary German I had ever known.
Every man lives his own time.  These are infinitely changing times if they are compared to any former time.  I had the privilege of observing his conduct when he was bitterly paying the debt contracted by the one who had sold his soul to the devil for a few swigs of Vodka.
I keep the deepest feelings of solidarity towards Honecker.
Fidel Castro Ruz
June 11, 2012
3:17 p.m.