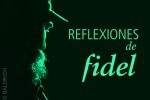 Cuban Revolution leader Fidel Castro paid tribute to National Poet Nicolas Guillen, to who he dedicated this Saturday his latest reflections.
To your health, Guevara!
Or better still, from the very depths of the Americas: Wait for us!
We will depart with you.
We want to die so as to live as you have died;
and live as you live on.
Che: Commander and friend.
That was the beautiful final stanza of a poem written by the National Poet.
Fidel Castro Ruz
June 16, 2012
3:05 p.m.