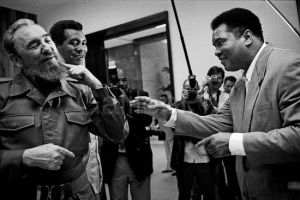 The Cuban Revolution, Fidel Castro Ruz, dedicated his latest reflection to the recent deceased Cuban boxer Teofilo Stevenson.
Victim of a heart attack on Monday in Havana, Cuba, the three-time Olympic and World Champion and greatest amateur boxer in history, died, leaving a whole country mourning his loss.
Champion with a devastating right hand, Stevenson deserved national and international recognition due to his results as one of the best athletes of the 20th century.
Below is the full text of the reflection
TEOFILO STEVENSON
Stevenson has left us. The news arrived yesterday after 4:00 p.m. No other amateur boxer shone so much in the history of that sport. He could have achieved another two Olympic titles hadn't it been for certain duties that the principles of internationalism imposed on the Revolution. No money in the world would have been enough to bribe Stevenson.
Glory be to his memory forever!
Fidel Castro Ruz
June 12, 2012
3:15 p.m.