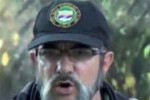 The Revolutionary Armed Forces of Colombia (FARC) called today the inhabitants of the South American country to participate in the open process with the government, to end five decades of armed conflict.
In a video released by guerrilla representatives during a press conference in the capital, top FARC leader Timoleón Jimenez also urged the Colombians to prevent any attempt to boycott the search for peace.
Tymoshenko also reiterated in his policy statement the will of the guerrilla organization to bring negotiations to its main objective, the termination of a conflict that has left people dead, injured, homeless and displaced.
In honor to them, we make the commitment to relentlessly persevere in this struggle for peace, he said.
To the FARC General Staff chief, the approach to the government to establish negotiations should not be interpreted as a sign of weakness.
On Tuesday, Colombian President Juan Manuel Santos and the top FARC leader announced separately to begin a dialogue to end that conflict. (Taken from PL)