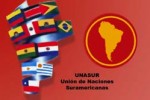 The High-Level Group of the Union of South American Nations (UNASUR) on the Paraguayan crisis will issue a statement here on Tuesday, amid great expectations.The team following up on the situation in Paraguay after the parliamentary coup that overthrew President Fernando Lugo in June had postponed a news conference announced on Sunday night until Monday, at the end of a long closed-door meeting.
However, the press conference was postponed again, because the meeting, which analyzed diplomatic reports from the member countries on Paraguay's situation, lasted more than expected, according to diplomatic sources.
Delegates from all member countries attended the meeting, as representatives of all UNASUR members joined the group originally set up.
Only Paraguay was excluded from the High-Level Groups, because it was suspended from UNASUR after the Constitution was violated in that country when Lugo was overthrown.
The news conference by the High-Level Group will coincide with a visit by Argentinean Foreign Minister Hector Timerman, whose government maintains one of the staunchest stances against the parliamentary coup d'etat against Lugo.
(Taken from PL)