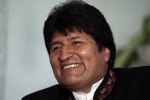 Bolivian President Evo Morales will be named the Quinoa Special Ambassador to the Food and Agriculture Organization (FAO) in Rome, on Monday.
The Bolivian leader will visit the headquarters of that UN agency to meet with FAO general director, Brazilian Jose Graziano da Silva, and will later travel to Holland to promote quinoa at the International Horticultural Exhibition Floriade 2012, in the city of Venlo, where Bolivia has an exhibit.
This appointment is in recognition of Morales's efforts to promote the millenial grain, as an alternative to alleviate hunger in the so-called Third World. It also marks the international Year of Quinoa in 2013, declared by the UN in November 2011, at Bolivia's suggestion.
Quinoa is a grain that originated in the high plains of the Andes. It grows in arid and semiarid lands, with large genetic variety and a huge capacity to adapt to adverse climates and different habitats.
Taken from Prensa Latina